"SERIES CHAMPIONSHIP & TOURNAMENT SERIES"
PAYPAL PAYMENTS
All will now be sent to Steve aka: "Tide1on"

Once you've signed-in for an event on the forum "Sign-in" thread
Tide1on's email address will be PM'd to you
or
You can request it now via PM for future use and to save time
For the record I use Mozilla Firefox so I'm not sure if each layout below is the same for each of you, it could vary for each search engine and/or from a mobile device. I made an effort to keep it as simple as possible, hopefully the instructions below are easy for all...
1

.
Go to

PayPal

and create an account with a linked bank account or a balance.

Once an account has been created and you're logged in...
Click on "

Pay or send money

" (circled in yellow).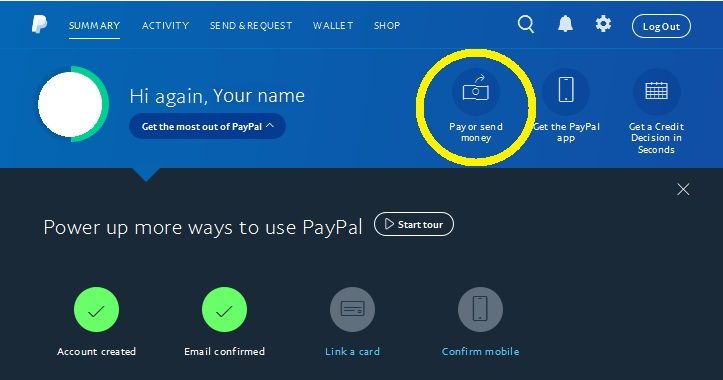 2

.
Next click on "

Send to friends and family in the US

" (circled in yellow).
ONLY SELECT THIS PAYMENT OPTION AS I AM NOT PAYING ANY FEES
AND YOU'RE NOT SENDING MONEY ABROAD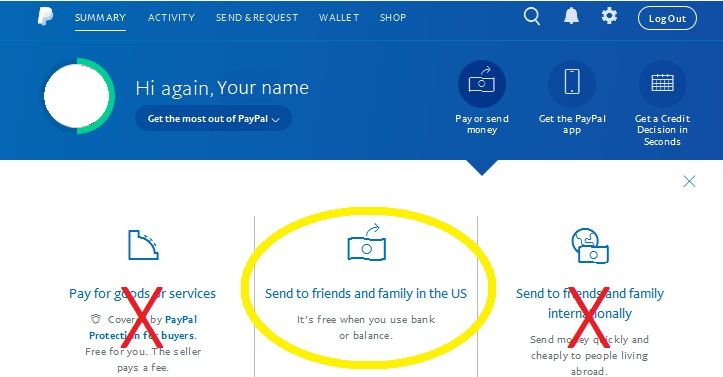 3

.
Enter the provided email you received via PM in the rectangle box...
Then click the "

Next

" button (right of the rectangle box, both circled in yellow).
4

.
Enter the amount you're sending and where is says "

Add a note

" (circled in yellow)...
"

PLEASE PROVIDE YOUR HARDCORE FORUM USERNAME IN ORDER TO BE MARKED PAID ON THE EVENT SIGN-IN THREAD

"
"

ALSO, PLEASE INCLUDE A CONTACT NUMBER WITH YOUR USERNAME IN CASE YOU NEED TO BE CONTACTED FOR ANY UNFORESEEN REASON

"
NOTE: YOUR NUMBER "WILL NEVER" BE SHARED WITH ANYONE OUTSIDE OF THE TOURNAMENT COMMITTEE
Now click the "

Continue

" button.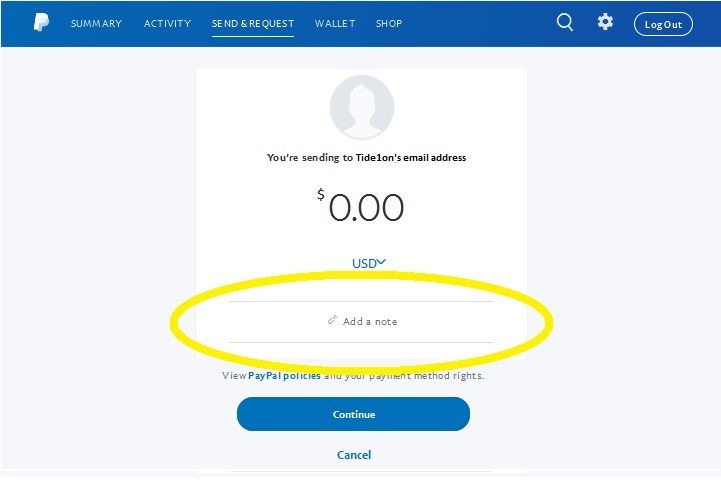 5

.
Once you have clicked the "Continue" button you should see the following...
YOUR HARDCORE USERNAME & CONTACT NUMBER SHOULD BE IN THE UPPER YELLOW CIRCLED AREA
along with
YOUR LINKED BANK IN THE LOWER YELLOW CIRCLED AREA
Verify the amount you're paying
and
Once again make sure your username, contact number & linked bank are all present...
If all is correct you're good to go. Click the "

Send Money Now

" button.
6

.
When completed you should see a screen like or similar to this.
Note: There are other options for making payments for the upcoming
Series Championship & Tournament Series events.
Please see rule 15 in the

2017 Series Championship & Tournament Series Rules

thread. The rules are located in the

HardCore Kayak Anglers Club Tournaments

section (under announcements).
"QUESTIONS"
Post them here on this thread or you can PM me.